Family Life
Family Life Apostolate
To promote programs that will guide and attract married couples to participate in family-oriented activities in the parish which aims to strengthen Christian Family Life.
Couples for Christ - Pililla
The future of humankind passes through the family. So does the future of the church. Hence, the church should direct its primary attention to the Christian family so that it may become not only the object but also the subject of evangelization.
(PCP 11 no. 597)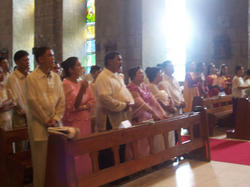 Chariman of Family Life Apostolate
Contact Family Life Apostolate